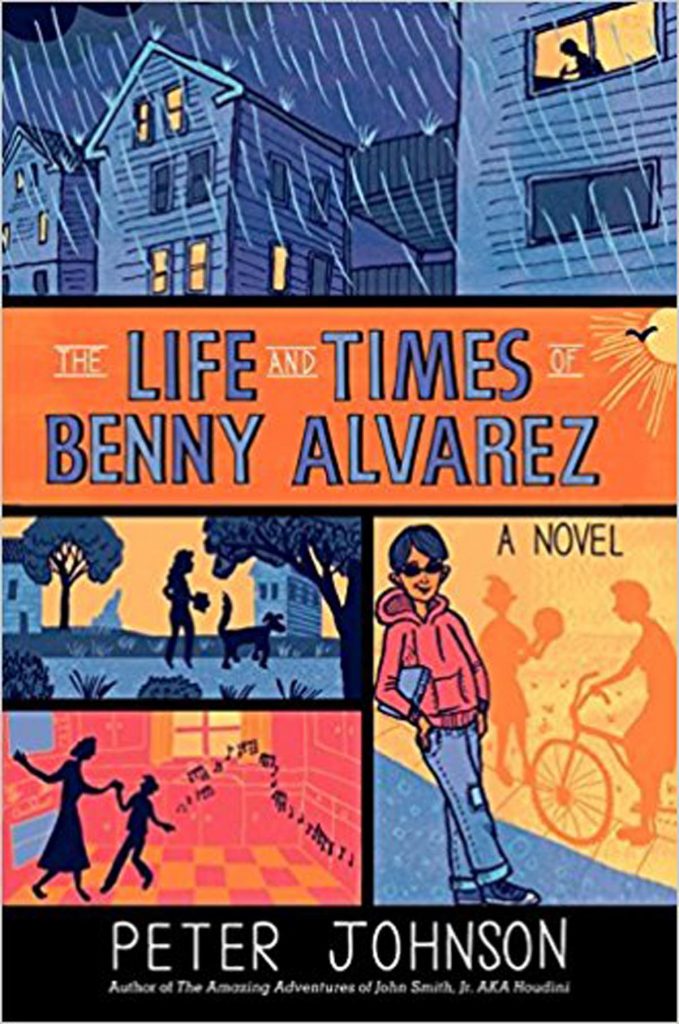 This heartfelt story about school, friendship, and family is perfect for readers who can't get enough of such middle grade favorites as Jerry Spinelli and Gary D. Schmidt. From acclaimed author Peter Johnson, The Life and Times of Benny Alvarez is a novel that will make you laugh, cry, and appreciate your family all the more.
Everyone thinks Benny Alvarez is Mr. Negativity. According to Benny, he's just realistic about seeing the "other side" of things—when it comes to just about everything. But maybe there's another way to deal with the things Benny can't control—like his ailing grandfather, his wild younger brother, and the know-it-all girls at school. In this poignant novel about acceptance, Benny Alvarez will have to decide . . . is the glass half empty or half full?


Order Now From Amazon (Click Logo Above)
---
REVIEWS
Publishers Weekly
Seventh-grader Benny Alvarez is known for a few things: a negative attitude that his mother keeps trying to change; the Word Warriors, a group he started with his two best friends to use and decipher obscure and unfamiliar words; and a rivalry with his smart and bossy classmate Claudine. But lately whenever Benny looks at Claudine, he can't help but notice how her eyes sparkle. Just as confusing as these contradictory emotions is the way Benny's grandfather's health has deteriorated after his stroke, not to mention the poetry unit in his English class, which turns into a battle of poems between Benny and Claudine. This slice-of-life novel portrays Benny and his entertaining family and friends with just the right balance of angst and humor; Benny's narration is a spot-on mix of the sharp wisdom and utter befuddlement that can result when hormones come into play. Johnson (The Amazing Adventures of John Smith, Jr. AKA Houdini) gives a strong sense of the fears and joys that come with being a 13-year-old-boy working to make sense of the way his life, friends, and family are changing.
Kirkus Reviews
Benny navigates the treacherous waters of seventh grade with wit and sarcasm. Dubbed "Mr. Negativity" by his little brother, he follows in his dad's footsteps in always expecting the worst, but that doesn't mean he doesn't have any fun. He and his two best friends test new vocabulary from the thesaurus each day at school, where a girls-vs.-boys divide arises. Benny is chosen as the boys' champion in a poetry competition against the girls, led by his nemesis: know-it-all Claudine. Meanwhile, Benny's dad has been out of work and just can't find a job, his mom is unrelentingly positive, and his grandpa is slowly losing his mind. This second middle-grade novel from the author of The Amazing Adventures of John Smith, Jr., AKA Houdini (2012) offers richly developed side characters and a true-to-life voice in Benny's smart-mouthed but still-naïve perspective. His Irish family's antics (the "Alvarez" is some long-lost relative) carry the story engagingly for readers with only the lightest of plots. This friendship story will appeal to word nerds and those that tolerate them, and it may even produce some tears under cover of humor.
---
TESTIMONIALS (Click to Enlarge)
---
TEACHING MATERIALS