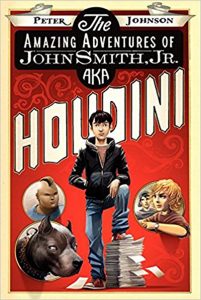 For fans of Jerry Spinelli's Maniac Magee, Gary D. Schmidt's The Wednesday Wars, and Jack Gantos's Joey Pigza Books comes a hilarious and poignant slice-of-life novel from critically acclaimed author and poet Peter Johnson.
When an author comes to speak to his class in a rundown area of Providence, Houdini decides to make money by writing his own novel. Houdini chronicles his life as he and his friends start a leaf-raking business, befriend Old Man Jackson (a Vietnam War veteran with a seriously intimidating dog), and get even with the neighborhood bully, Angel. But it's hard to find a way to write about his dad losing his job or his brother, Franklin, who is first reported missing in action in Iraq and then still seems to be missing when he comes home.
No matter what, Houdini and his friends rely on one another to figure out how to do the right thing. And Houdini discovers that writing and thinking about his friends and family lets him get to know them in completely new ways.


Order Now From Amazon (Click Logo Above)
---
REVIEWS
Kirkus Reviews — * Starred Review *
A middle-schooler writes a kids' novel; an author writes an engaging, amiable read—and, presto, a tale about a boy nicknamed Houdini turns out magical.
When your name is John Smith, you need to have something going for you. What this 13-year-old— alas, no relation to the dude of Pocahontas fame — has is a fascination with the master escape artist. After an author's visit to his classroom, John creates a novel, formed from the very novel kids are reading, and devises a series of lists to guide him. He also relies on adventures with his two best buds; a misunderstood Vietnam vet and his pit bull; and the neighborhood bully. By turns poignant and downright hilarious, Houdini's story/novel is delivered in a voice that's wonderfully authentic. Johnson expertly handles real male middle-school friendships, issues and angst and doesn't avoid some tough contemporary realities: Domestic troubles, the prospect of Dad losing his job and the pain arising from his older brother going missing in Iraq are handled realistically but sensitively.
In the end, Houdini realizes that writing has changed him and altered his perspective on people and life. Readers will feel the same way. And just try to get kids not to make their own lists or attempt their own novels.
Kathleen Odean. The Providence Journal
Set in today's Providence, Peter Johnson's The Amazing Adventures of John Smith, Jr, AKA Houdini, is the perfect book for adolescent readers—especially boys—who like humor combined with characters that seem completely real. John, dubbed Houdini, for his obsession with the magician, tells his own story in short chapters with frequent, often hilarious, lists. While funny, Houdini also copes with real problems—a bully's targeted him, Houdini's older brother's serving in Iraq, and his father may be laid off from his cleaning company job. Ultimately, family and friends pull together for each other in this satisfying novel that will leave readers happy they met Houdini.
Publishers Weekly
Johnson delivers a strong contemporary urban novel with cross-gender appeal, thanks to his likable, kind, and clear-eyed narrator, John Smith Jr. Nicknamed Houdini due to his obsession with the magician, the 13-year-old lives in Providence, R.I., in a neighborhood sandwiched between an affluent section and "the one people won't walk through after midnight unless they have a bodyguard." Presented in the guise of a novel that Houdini, inspired by a visiting author, is writing, the story traces the events of one autumn when Houdini's beloved older brother, Franklin, is stationed in Iraq, and Houdini and two friends start a leaf-raking business. Houdini's daily challenges—facing the local bully, befriending a scary Vietnam vet, fearing for Franklin's safety—are set against a realistic background of urban decay, broken families, and impending job layoffs, but his humorous edge and the well-paced action create an easy tone . . .Johnson offers solid insights into the varied well-drawn characters, and readers will appreciate Houdini's realization that "writing makes you think very hard about things." Agent: George Nicholson, Sterling Lord Literistic.
---
TESTIMONIALS (Click to Enlarge)
---
TEACHING MATERIALS